There are many reasons why your pool pump may stop pumping water, however one of the most common reasons is that the pump has lost its prime or in simple terms the water has drained out of the front of the pump (the clear round lid as seen below) when the pump switched off.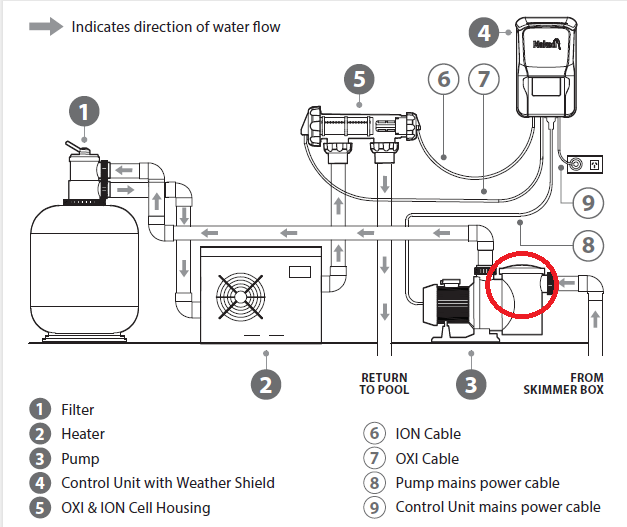 The most common causes of the pump losing its prime are as follows.
Low pool water level (below the skimmer box).
A clogged skimmer basket.
Loose fittings or perished O-rings.
A clogged basket in the front of the pump.
Debris in the impeller of the pump.
A leak in the suction lines allowing air to be drawn in.
It is quite common to have the pool equipment such as the pump, filter and sanitising system above the water line of the pool, however this can cause some problems with the water flow if it is not installed correctly and maintained properly.
When the equipment is installed this way, it is recommended that a check valve be placed inline as close to the skimmer box as possible. The valve will stop the water running back out of the plumbing line and into the pool when the pump shuts off, leaving the pump primed and full of water.
The next time the system switches the pump on without enough water in the strainer basket it will not have the suction to draw the water upwards from the skimmer box and the pump will run dry and this will cause the Naked system to display a WATER FLOW FAULT.
The WATER FLOW FAULT will activate when there is no water flow or the water level in the cell housing is too low and has exposed the flow sensor on the OXI Cell.
The system will automatically stop the pump for 3 minutes and make three attempts to draw water over a 5-10 minute period. If the fault remains the system will sit idle until the next TIMER is due to start and the process will start again. This cycle will continue until the flow of water is resolved.
To resolve this issue you can follow the steps below.
Check all valves are open and nothing is stuck in the skimmer box or pump basket for anything that is restricting water flowing through to the pump.
Ensure the water level in the pool is at least halfway up the skimmer box.
Check all O-rings for damage and replace if necessary and ensure they are lubricated using silicone grease. (do not use Vaseline)
Press the POWER/MODE button to OFF.
Open the clear lid at the front of the pump and fill with water, replace the lid and press the POWER/MODE button to ON to ensure water is coming through.
Return to AUTO if all is ok or repeat the process until satisfied.
If this does not solve the priming issue please contact your pool service technician or nearest pool professional for assistance.